Office 365 vs GSuite vs Dropbox
When it comes to deciding which cloud collaboration tool to use, you'll probably hear three names being thrown around meetings: Office 365, GSuite, and Dropbox. These three are some of the best in cloud networking in terms of cost and functionality.
To get a better grasp of each service, below is a summary of the most pertinent apps and features of each service.

Out of the three tools, Microsoft is probably the best known for their productivity and work apps. Over a billion people use Microsoft Office.
But Office 365 is more than just an Internet-enabled version of Microsoft's 20 year old productivity suite. Office 365 expands Office's capabilities to include powerful online collaboration and communication services, like Outlook, Skype for Business, and OneDrive.
Outlook: Outlook brings everything you'd expect from an email management tool–filters, shared calendars, scheduled sending–and tops it with features for managing tasks, files, and even payments. It also leverages a bit of AI-enabled data analytics to create to-do lists or send alerts when users are overbooked.
Skype for Business: Business Skype adds a few useful features for companies, like being able to hold conference calls with up to 250 people, and recording tools. There's also the Broadcast feature, which allows users to livestream a meeting to up to 10,000 viewers–perfect for town halls or employee seminars. Subscribers get round-the-clock support, which may be attractive for multinational companies with 24/7 operations in different timezones.
Yammer: A social media network for business. Organisations can use Yammer as a repository of data. Employees can ask questions and management can use it to quickly disseminate company news and policy changes.
OneDrive: Microsoft's answer to Google's Drive, this tool enables real-time editing and collaboration for Microsoft's popular Word, Excel, and Powerpoint, albeit in limited capacity as not all the features of their desktop counterparts are available online. Each user gets between 1TB to unlimited cloud storage space, depending on your plan.
Microsoft Teams: Where Slack is mainly used for communication, Teams is geared towards being a forum for collaboration. It centers around channels, which are groups of people in the same department or projects. Users can upload files, edit documents in real time, and initiate meetings.
GSuite

If Microsoft is celebrated for the enduring usability of its suite of Office tools like Word, Powerpoint and Excel, then Google surely wins the award for online collaboration. The search engine giant is arguably the first of the three to explode on the real-time collaboration apps scene with services like Google Docs. Gmail is also currently the most popular email service in the world, with over 1.4 billion users as of 2018.
Gmail: Possibly the only email client that doesn't need an introduction. Enterprise Gmail adds a few features for businesses, mainly for security and privacy. Emails can be managed by central IT personnel across accounts and devices. Google also guarantees 99.9% uptime and data backups.
Google Drive: Like Office, Google Drive gives you cloud storage, word processing, spreadsheets, and presentation tools.
Google Sites: Not many people know Google has its own website builder embedded in GSuite. But this simple tool enables users with no expertise or time to create a website, no coding required.
Hangouts Chat: What's great about Hangouts is its deep, intuitive integration with the whole GSuite ecosystem. For instance, from the messaging app, you schedule on Calendar, upload files from Drive, and export the chat to Vault with just a few clicks.
Google Meet: Google's answer to Microsoft's Skype, Meet allows you to hold and attend video conferences in and outside of the company. The app supports screen sharing and can host 25 to 100 people, depending on your GSuite plan. Meet also lets you broadcast to up to 100,000 viewers. Further, meetings sync between devices, so you can hop off your laptop and rejoin the meeting on your phone.
Google Vault: An archiving tool for keeping and managing email, chat messages, recordings, and Google Drive files. It allows you to set passwords and expiry dates on data, which can help businesses keep their storage clean and their archives, relevant.
Dropbox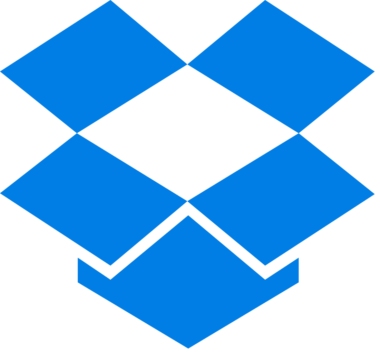 Dropbox is a file-sharing service founded in 2007. Compared to Microsoft and Google, the company's tech pedigree is considerably less. This makes the success of the service even more impressive. In just a few short years since its inception, Dropbox has managed to grow to 500 million active users.
What started as a simple file sharing solution is now an umbrella of cloud networking services. Dropbox's most recent update has turned the service from "file cabinet to conference room", and while many new features are integrations, not homegrown apps like Teams or Hangouts, they still get the job done.
Smart Sync: A newly introduced feature that's been long overdue. This lets users pull up any file they've ever shared through Dropbox, download it onto their desktop, or bring it back to online only accessibility to save disk space.
Dropbox Paper: Real-time document editing that can be shared with multiple people. You can create task lists, drag and drop images and videos and audio clips, and assign tasks. Limited formatting options make the interface look less cluttered, which will be important for file-heavy projects.
Dropbox Transfer: Currently still in beta, this feature will allow users to send up to 100GB of data through links, set an expiration on availability, and show some analytics. For instance, how many people have downloaded the file. Business Professional users can also create customised download pages.
Slack: You can directly send files over chat, or talk while inside Dropbox. The integration also means Slack users can directly import their Dropbox files into any chat channel.
Zoom: This integration is Dropbox's answer to Google's Hangouts and Microsoft's Skype. Using Zoom, users can initiate video call meetings, share files by dragging and dropping, and keep track of who's sharing which content.
Ultimately, the product you choose comes down to multiple factors like cost, number of users, and functionality. Below is a comparative rundown of each solution to help you decide which is best for your business.
Cost
All the suites are offered through flexible pricing tiers, on a per user per month basis.
With Office365, you can choose between Business Essentials (£3.80), Business (£7.90), Premium(£9.40), and Enterprise, which is further divided into E1, E3 (£28.10), and E5 (£48.90). Business and Business Premium has a 30-day free trial, which comes with 25 licences. Business Essentials has no trial option.
GSuite comes in Basic, Business, and Enterprise. Basic retails for £4.60, Business for £9.20, and Enterprise, £20. You can test for best fit with a 14-day trial period.
For Dropbox, there's Standard (US$15 or around £11.97) and Advanced (US$25 or around £19.95). There is also an Enterprise plan, which is available by quote. The company offers a 30-day trial.
Storage
Office 365's Business Premium gives users 1TB of personal cloud storage, with the option of adding more for an additional fee.
Meanwhile, Google's Basic edition gives users 30GB of data each, while Business and Enterprise users get unlimited storage. Google Drive plans are also available as a standalone purchase, costing $8 (around £6.39) per active user and an additional $1 (£.08) per 25GB used.
Dropbox Standard users get 3TB of data, while Advanced users get "as much space as your team needs". Storage-only solutions are also available: Dropbox Plus will give you 2TB of storage, while Professional users get an extra 1TB.
UX
Like all modern enterprise tools that try to be catch-all solutions for work, Office365 suffers from feature bloat. The ribbons on Outlook and Office apps are probably the busiest you'll see on productivity tools. It's not uncommon to see businesses allocating resources to train new employees on using Office365.
GSuite apps, in comparison, are generally more intuitive, guided by Google's massive data trove on user behaviour. Dropbox's interface is often hailed for its seamless interface, which is possibly an effect of being a service built around a simple premise: easy file sharing and storage.
Features
When it comes to richness of function, Office 365 is the superior option, packing tools that can be used end-to-end by an organisation, from presenting marketing pitches to number crunching in supply chain. It also offers the impressive business analytics tool, Power BI.
GSuite's apps are less powerful, in comparison. But what Google's tools lack in function compared to, for instance, Word, Excel, and Powerpoint, they make up for in intuitiveness and real-time editing.
Dropbox, meanwhile, truly looks limited compared to GSuite and Office365. Yet for some businesses, the specialisation is ideal. Dropbox's relatively simpler service is perfect for small businesses just looking for a good cloud storage and file sharing solution without the bloat of enterprise-level tools.
Security
Office 365 has Enterprise Mobility and Security, a management platform that lets users restrict and allow devices, encrypt data, and even investigate data leaks and phishing attacks.
GSuite's Identity and Access Management service that allows companies to control credentials and access across all users. Administrators can also set up parameters to detect when an email or Google Drive document contains potentially sensitive information, and either quarantine it or block sharing.
Dropbox allows project managers to toggle access to files and remotely wipe files from connected devices. Paid users can also set passwords and expiry dates on files.
Companies who deal in highly sensitive data, such as those in the healthcare or finance sectors, may appreciate the detailed privacy control settings offered by Office 365 and GSuite.
Conclusion
Ultimately, which tool you decide to use depends on the needs of your business. Organisations who handle massive amounts of data and need powerful and granular analytics tools should look to Office365. Companies who want a simpler but still capable offering may gravitate towards GSuite. Finally, for small to medium businesses who are looking for the best storage and file sharing solution, Dropbox is ideal.
There are other more strategic long term considerations to take into account on top of these. If your business is growing rapidly or your expecting to branch into a new sector or market where security or collaboration is paramount, then the best platform today isn't necessarily the best platform for tomorrow. Your IT management and long term business strategy will therefore also factor into your decision.